Jockel Extinguisher 6L ABF (F Class)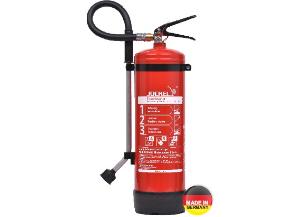 If you ever stood in front of a burning pan or a fryer you know how fast fat can ignite itself. If then the wrong extinguishing agent is used such as water, it will violently vaporize and will spray burning fat
everywhere. For a successful fire fighting of grease fire class F, Jockel provides you with special extinguishers which also can be used in different fields and are suitable for fire classes A and B.
---

Jockel Extinguisher 1-2L ABF (F Class)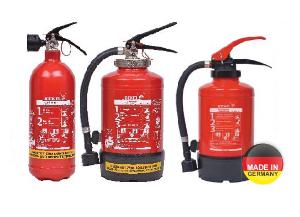 Just the same product as we've seen before but with different dimensions and weight. Ideal for areas of application as kitchen areas.
---

ABC Extinguishers Jockel 1-12 kg Dry Powder Portable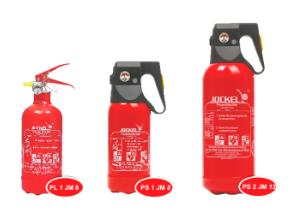 These powder extinguisher can be used for all incipient fires of classes A, B and C. The effect of this product for fire classes A, B and C is based on an anticatalytic effect. This means that the intervention of the powder particles in the combustion process causes a chain termination reaction. For fire class A (smouldering fires), the extinguishing powder also has a barrier effect on the burning material - it forms molten layers (smothering sinter layers). In this way, the diffusion of oxygen into the source of the fire is prevented as is the heating of the immediate surroundings of the fire, nor can the fire reignite.
6 kg: EXT1015 | 9 kg: EXT1020 | 12 kg: EXT1025
ABC Extinguishers Jockel 6-9-12 kg Technical Specifications
1 kg: EXT1000 | 2 kg: EXT1005
ABC Extinguishers Jockel 1-2 kg Technical Specifications
---

CO² Extinguishers Jockel Portable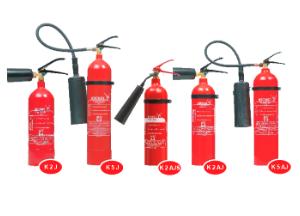 The Jockel carbon dioxide extinguishers leave no harmful residues and therefore no mess or unnecessary damage to equipment. That's why they are a good choice for fires of computer systems or other electronic devices, e.g. as in laboratories.
The non-flammable gas carbon dioxide can be spread optimally and extinguish the fire fast and effectively.
Safety note: Please mind danger of suffocation when using carbon dioxide extinguishers indoor. In this case promptly warn others and assure a cleared room. Before entering the room again it should be well ventilated afterwards. We recommend a special employee training.
2 kg (CO²): EXT1045 | 5 kg (CO²): EXT1050
CO² Extinguishers Jockel Portable Technical Specifications
---

AFFF Extinguishers Jockel Portable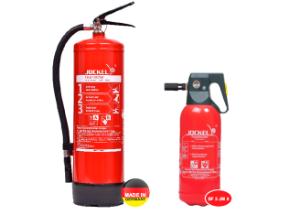 A perfect solution for initial fires of fire classes A and B are these easily manageable foam extinguishers. Due to the low specific density, the water film-forming foam agents are able to compose a sealed steam-tight aqueous layer on the surface of fire, even with burning liquids. This barrier prevents vapours and gases from escaping and stops the oxygen supply to the burning material. In this way, the fire is choked. In addition, the foam has a cooling effect thanks to its water content. The foam can be easily removed afterwards. A significantly reduced fluorine content means that these organic foams by Jockel are a lot more environmentally compatible. Of course, Jockel does not use foam concentrate containing perfluorooctanesulfonate (PFOS) or perfluorooctanesulfonic acid (PFOA). An optimised formula, the increase in active extinguishing substances and the fine adjustment enhance the extinguishing effect of the high-performance organic foams even more.
6L (AFFF): EXT1035 | 9L (AFFF): EXT1040
AFFF Jockel Extinguisher Portable 6L & 9L Technical Specifications
AFFF Jockel Extinguisher Portable 2L Technical Specifications
---

Jockel 6L Lithium Extinguisher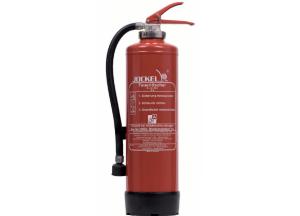 6L extinguisher - also available with 9L.
M74 hammer knob fitting made of glass fiber reinforced plastic with pressure gauge
·

Quality steel tank high-quality external coating; additionally, with resistant internal coating

·

Designed and robust fittings

·

High Performance Gel

·

Refillable
6L(Lithium): EXT1600 | 9L(Lithium): EXT1601
Jockel 6L Lithium Extinguisher Technical Specifications
---