ENTEL VHF GMDSS HT649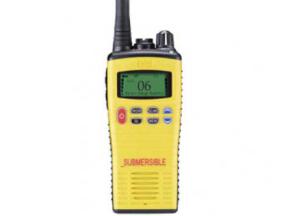 The HT649 GMDSS is MED/SOLAS approved. For those who require a full-featured, no-compromise handheld GMDSS with a high-visibility backlit LCD display, the HT649 GMDSS will exceed the expectations of even the most experienced radio user.
The first time you drive Entel's HT649 GMDSS Series 2.0, you will be impressed by its sheer quality. From the rugged ergonomic design that fits comfortably in your hand to the exceptionally loud audio.
The HT649 GMDSS Series 2 VHF has been built to MIL STD 810C/D/E/F for rugged and durable performance, fully submersible to 2 meters depth for 4 hours.
Entel VHF Tech Specs
---

VHF ENTEL HT844 ATEX IIA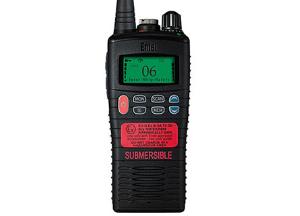 The HT844 portable is designed to withstand the every day rigours of life at sea, with superior MIL-STD 810/C/D/E/F construction and IP68 submersibility making them the most robust and durable marine portables on the market.
The HT844 is supplied preprogrammed with all INT, USA and CAN channels.
Entel VHF Tech Specs
---

ICOM GM1600E GMDSS VHF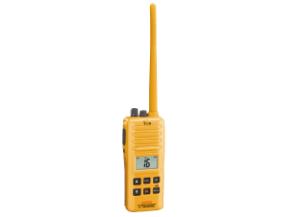 The IC-GM1600E meets temperature, thermal shock, vibration and drop resistant (from 1 m height) requirements. After passing those environmental tests, the IC-GM1600E retains 1m depth waterproof construction as specified by IMO resolution MSC.149(77) and other related regulations.
For survival craft use, the optional BP-234 (non-rechargeable) 3300mAh lithium battery pack provides more than 8 hours* of operating time even at –20°C. * Tx:Rx:Stand-by=6:6:48.
Large buttons and knobs provide tactile feedback for positive operation
Meets MED 2014/90/EU, "Wheel mark" requirements Wide viewing angle LCD display A wide viewing angle, high intensity LCD offers extra clear, easy to read characters.
The bright LED indicator on the top of panel shows the operating condition clearly. Easy to operate even for unskilled operators
Operation instructions are printed on the rear panel. All operations can be made with one hand.
Complete c/w 2 batteries & charger

VHF1019
ICOM GM1600E VHF Tech Specs
---

Ocean Signal V100 VHF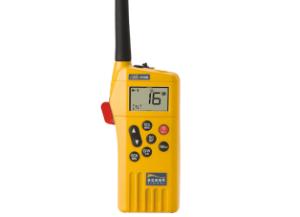 The Ocean Signal range of survival craft VHF hand portable radiotelephones exceed the requirements of IMO, SOLAS and GMDSS.
The SafeSea V100 survival craft hand portable radiotelephone meets all the requirements of the IMO for carriage on SOLAS ships. Designed to be ultra-rugged and easy to use, both on-board and in distress situations, the V100 is the ideal choice for mandatory and voluntary carriage. The novel battery protection tab means the primary battery can be permanently attached to the radio without fear of losing its charge.
The radio will always be available for use in times of emergency without the need to remove protective labels or the like before use. Simply break off the red protective tab and the radio will be immediately ready to turn on.

VHF1120 V100 GMDSS VHF Complete c/w 2 batteries & charger

VHF1121 V100 GMDSS VHF With Lithium Battery only
---