OCEAN SIGNAL EPIRB1 Auto GPS Cat I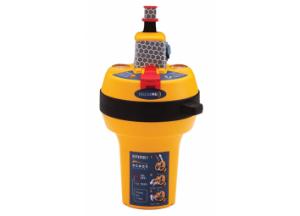 The rescueME EPIRB1 provides peace of mind with an impressive 10 year battery life. The world's most compact EPIRB can always be on hand, as its small size allows it to be easily retained within its quick release bracket or placed in an emergency grab-bag or life raft.
CODE: EPI2151 (Automatic) - EPI2181 (Manual)
Features
30%(typ) smaller

10 year battery life

48+ hours operational life

5 year warranty

Fast accurate positioning with 66 channel GPS

Retractable antenna

Quick release bracket

Secure lanyard
---

OCEAN SIGNAL RescueMe PLB1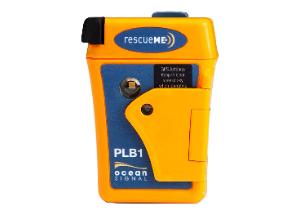 The rescueMe PLB1 can be operated with a single hand in even the most challenging situations. It provides the reassurance that global emergency services can be alerted by the press of a button. A simple spring loaded flap coversthe activation button preventing inadvertent use. The rescueME PLB1 works with the only officially recognised worldwide dedicated search and rescue satellite network (operated by Cospas Sarsat). As this is funded by governments there are no charges to use this service.
CODE: EPI2170
Features
30% smaller (typ) by volume

Easily fits to lifejacket*

Retractable Antenna

7 Year Battery Life

7 year warranty

24+ hour operational life

High brightness strobe light >1candela

66 channel GPS receiver

Unique mounting clip

Operates on the global Cospas Sarsat rescue system

Free to use, no subscription charges
---

McMURDO V2 Fastfind 220 PLB with GPS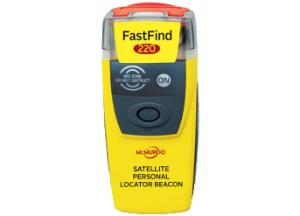 The device can be reprogrammed and registered in the country of your choice/location - free of charge.
Registering your personal pager is required by law in most countries. It is programmed with the ship's MMSI, or with the device's serial number - depending on the ship's flag.
Registration is very important because if your beacon is ever activated, it is how search and rescue teams will know who you are, and the contacts provided can provide information about your specific travel plans. In the absence of this information, it may take longer to initiate a search and rescue operation.
PLBs have been tried, tested and proven in some of the world's most remote locations and treacherous conditions. Even under extreme conditions and situations, the FastFind 220 is easily activated. Simply unfold the antenna, pull out the tamper-evident seal, and press the ON button.
Deliberate misuse of the device could result in a penalty.
CODE: EPI2115
Dimensions 3.4 x 4.7 x 10.6 cm Weight 152g Operating Temperature -20°C to +55°C (-4°F to 131°F) Storage Temperature -30°C to +70°C (-22°F to 158°F) Altitude 12,192m (40,000ft) Sealing Depth Immersion to 10m (30ft) for 5 minutes Buoyancy Category 2, will not float (keep in buouancy pouch) Battery Type Lithium Manganese Operating Battery Life Up to 24 hours at -20°C Storage Battery Life 6 Years Frequency 406.031MHz (alert) / 121.5MHz (homing) Power 5W (alert) / 50MW (homing) nominal GNSS Receiver GPS (L1) + GALILEO (E1), 71 channel, ceramic patch antenna Indicator Light High brightness LED signal light SOS flash-light Morse code SOS flash pattern, 30 operations Activation Manual, three stages Warranty 1 Year (+4 Years with online registration)
---

SmartFind G8 EPIRB (Auto Float Free Housing)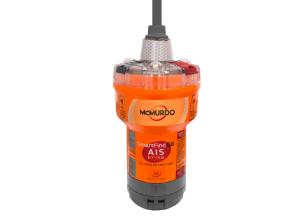 The G8 AIS is the first EPIRB to have standard 406MHz, 121MHz & GPS capabilities AND include AIS for localised rescue. This combination is a result of new technology but also new attitudes to AIS as a search and rescue tool, plus the realisation that accelerated alert detection and location accuracy will save even more lives.
MEOSAR Compatible® for enhanced detection and location performance, the G8 range includes an industry first; a four-frequency EPIRB, combining the global alerting of 406 MHz with the localised locating and tracking power of AIS.
A fully protective, spring loaded enclosure, the auto-housing automatically deploys and activates the EPIRB when it is submerged between 1 - 4m. The SmartFind E8/G8 auto-housing incorporates fixing points which ensure previous* McMurdo auto-housing units can be retrofitted with minimum impact, when upgrading your vessels EPIRB.
---

ACR GlobalFix V4 GPS Epirb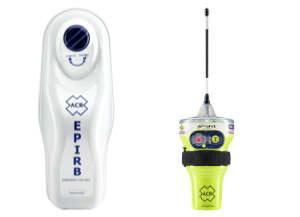 Designed with high-efficiency electronics that are built for performance, the GlobalFix™ V4 GP Emergency Position-Indicating Radio Beacon or EPIRB provides the protection you can trust in an emergency situation.
Should the unexpected happen, this EPIRB will relay your location to a vast network of search and rescue satellites, allowing local first responders to get you home more easily.
---

Ocean Signal RescueMe MOB1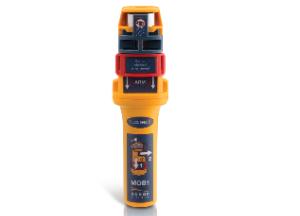 The world's smallest AIS MOB device with integrated DSC – the rescueME MOB1 from Ocean Signal. The MOB1 is compatible with even the most compact inflatable life-jackets. The MOB1 is intended to be installed within the life-jacket and will activate automatically on inflation, sending the first alert within 15 seconds.
Once activated your MOB1 will transmit an alert to all AIS receivers and AIS enabled plotters in the vicinity. The integrated GPS ensures precise location is sent to your vessel and any others that may be assisting. An additional feature of the MOB1, is its ability to activate the DSC alarm on your vessels VHF, alerting your crew to the situation.

EPI2160
RescueME MOB1 Tech Specs

---